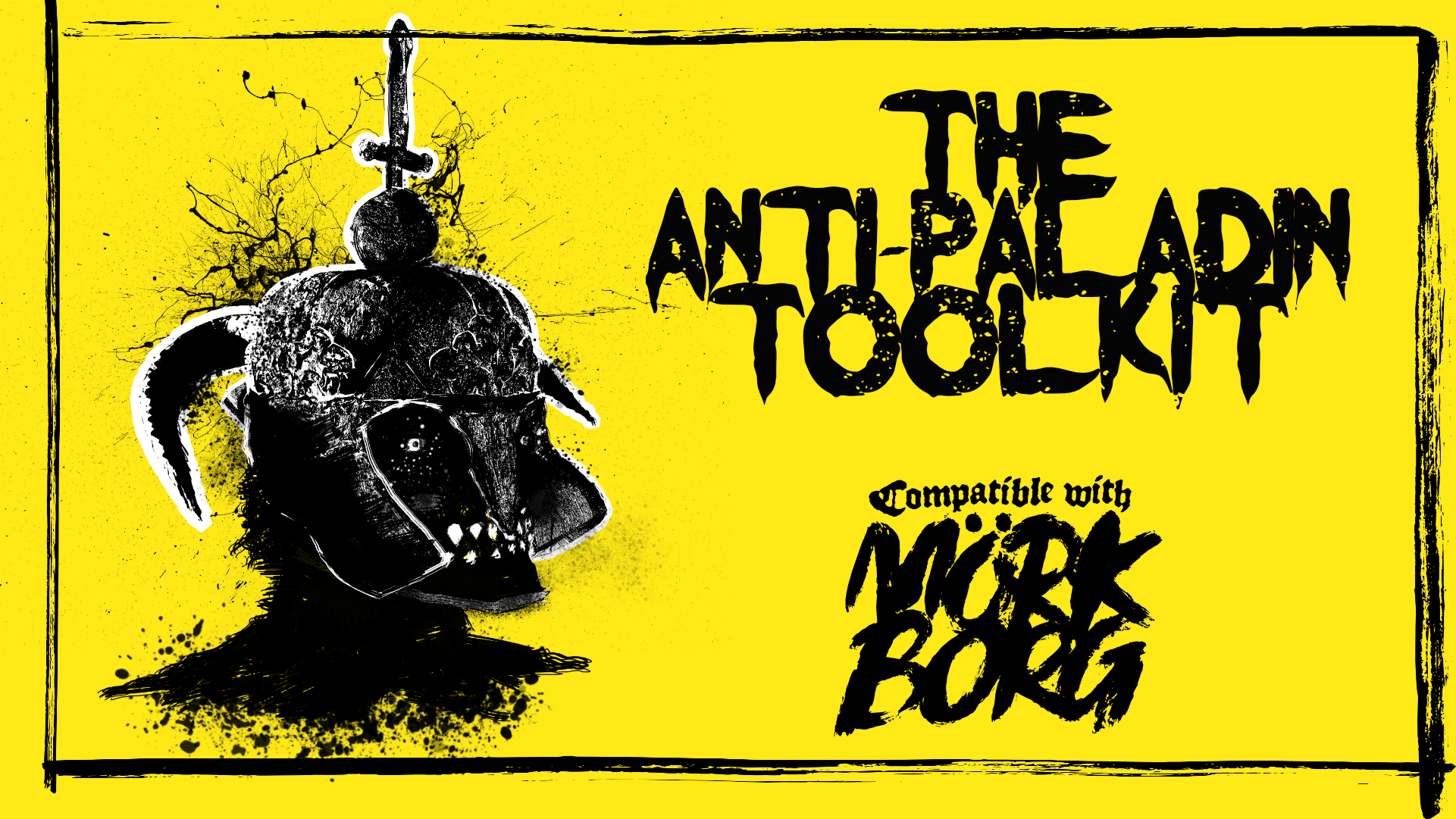 The Anti-Paladin Toolkit
The Anti-Paladin Toolkit is a hodgepodge of flavor and equipment and was created for the rules light ttrpg MÖRK BORG.
ARE YOU A STINKING PILE OF NO GOOD ROTTEN FILTH?

If so, this is for you. Inside this wicked festering toolkit, you will be able to commune with your inner bastard. Revel in the faceless wart covered dog that is your rancid soul. Kick Children, spit on the dead, Lead those easily influenced to their grave as you hang back and enjoy the show. Yes, you are a son of a bitch. But, you know in the end there is no one that can judge you.
You will win the day!
Within this document you will find the following:
- Upsetting typographic choices

- 8 original illustrations
- 5 new weapons for the faithless

- 2 new types of armor for those the love the bask in stench of their own deeds

- D8 Antagonist table of wretched deeds.


--------------------------------------------------------------------------------------------------
This project was developed for submission to the

Anti-Paladin Filthy Slime Jam!
GameJam Checklist:
- A5 portrait format | Easy! Done!
- 3-5mm of bleed on all edges. | No Problem I made a special one with bleed!
-Please keep text 8mm from page edges and gutters. | Umm... text that matters is!
-Five pages or less | If you only count the numbers on the pages. yes!
-Please include the 3rd party MÖRK BORG license text on your submission, ideally on an extra page | You know it!
-Make it dark, make it morose, but avoid any racist, sexist, homophobic, transphobic, or otherwise discriminatory content. | It's kinda anti religous but thats just part of the theme. I mean... MÖRK BORG is full of upside down crosses. whatcha gonna do?
Holier-than-thouness | I think so.
High-horsiness | Of course!
Filthiness-reveling | Lots of it!
Slime-bathing | Just look at that back cover!
Yellow and/or difficult to read | Mostly just yellow really.
The Anti-Paladin Toolkit is an independent production by Alex K. Barton of newyear Studios and is not affiliated with Ockult Örtmästare Games or Stockholm Kartell. It is published under the MÖRK BORG Third Party License.
MÖRK BORG is copyright Ockult Örtmästare Games and Stockholm Kartell.
Copyright © 2021 newyear Studios
Download
Click download now to get access to the following files:
MB - Anti-Paladin - Flattened - Pages - 3mm Bleed.pdf
29 MB
MB - Anti-Paladin - Flattened - Spreads - No Bleed.pdf
31 MB
Comments
Log in with itch.io to leave a comment.
Thanks for giving me a douchebag low end villain to somehow always be near my party!