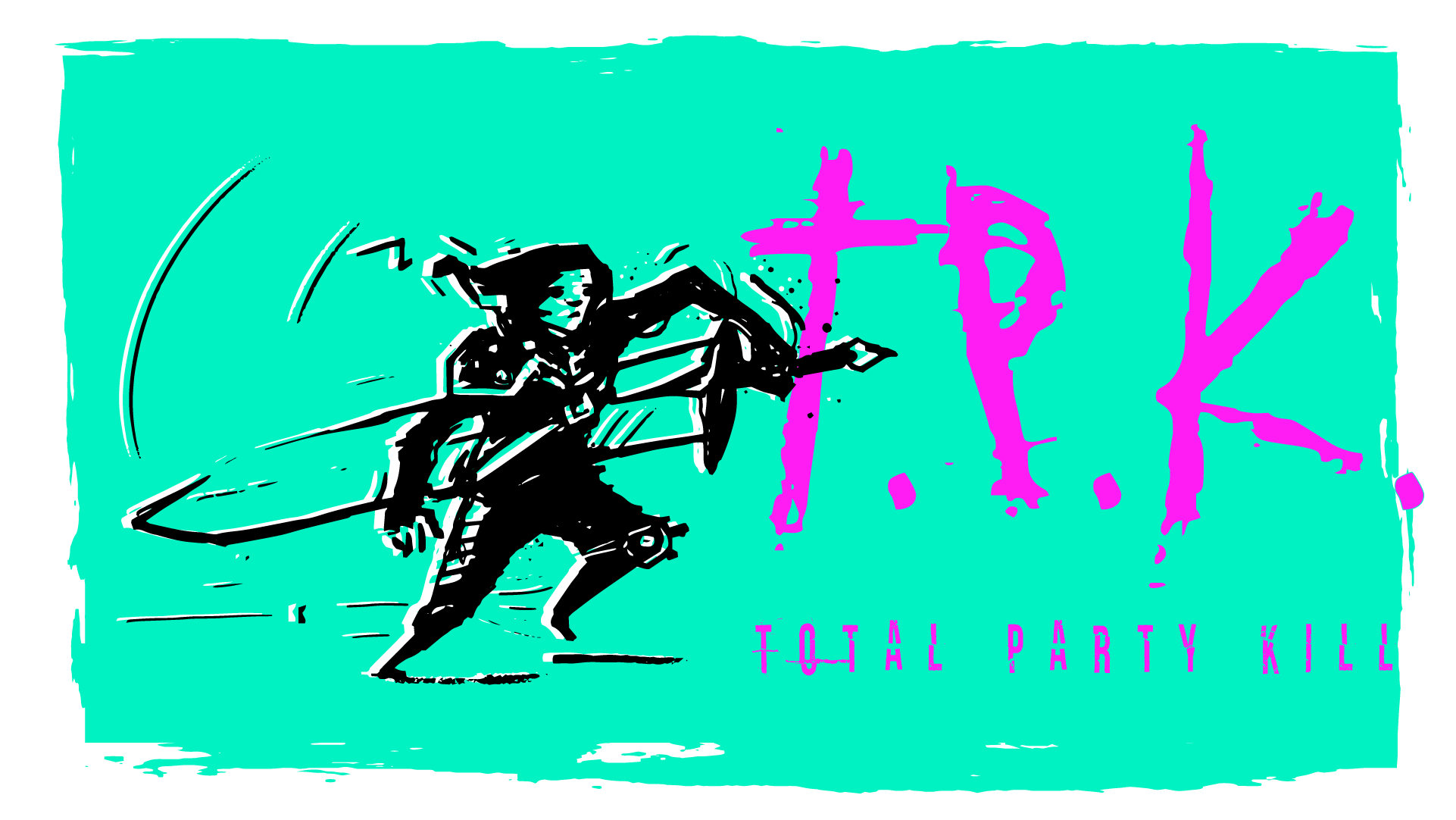 T.P.K | Total Party Kill
T.P.K. is an original rules lite TTRPG where all players share the same character.
Each player plays 1 of the many personalities trapped within their cursed hero.
Explore the land of Frust in search of a cure to your illness. You may, however, find you are not the sickest resident of this twisted land. The trek from city to city is not taken lightly. No one in Frust seems to be stable. Sickness of the mind runs rampant. Slowly it twists the body if not managed. Humanoid beasts roam the ruins between inhabited areas of this waste.


Highlights:
-Original Illustrations and vibrant colors
-Unique character and NPC stats and generations methods
-A Full world Map with 12 cities
-9 powerful items to equip
-An inventive combat system that scales enemy difficultly as the battle rages on
-Characters sheets for NPCs and Players with rules aides included
- Beak Zine Layout
This one page TTRPG was created for the 2021 One Page RPG Jam.
Rules Checklist:
Submissions must be a fully playable RPG system on a single page. (Back pages and separate character sheets are allowed.) Success! I did it!
Submissions must be made during the jam period specifically for the jam. No old games reposted. I Made this last night like a crazy person treating this like a 24 hours jam.
Hacks of other systems are fine (Laser and Feelings, and Honey Heist are popular examples). Make sure to credit where necessary. Nah, I went all original!

Multiple submissions are encouraged, so long as they are unique and not just reskins of the same game. Nope just this one almost killed me.

Games can be released as free, PWYW, or with a price tag. If you're charging for the game, please send me a copy so I can review for content which breaks the rules, and consider adding community copies. Gonna let it be free for a bit. May charge for it later though.

Label explicit or graphic content. Consider using or referencing safety tools, such as the X card. I didn't have room but my game does touch on mental health. Please be safe everyone!

No hate speech or bigotry. Nothing that breaks itch.io ToS or local law. Be cool. I am cool as a cucumber! No problem there.

Influence:
I play and create alot of Mork Borg content. I am sure the influence is clear. Other influences are JRPGs. Also, my own insomnia and mental health issues. Be strong everyone!

Depending on how this game goes over I may be able to do some physical copies of this. IF SO, They will be available at newyearstudios.com later this year after the site lauch.

This game was created by newyear Studios. Writing, Illustrations and design by Alex K. Barton. Copyright © 2021 newyear Studios

Download
Click download now to get access to the following files:
T.P.K - Total Party Kill - Character Sheet & Player Aid.pdf
547 kB
T.P.K - Total Party Kill - NPC Character Sheet & GM Aid.pdf
808 kB
T.P.K - Total Party Kill - Single Page Beak Zine - V1.1.pdf
1,018 kB
T.P.K - Total Party Kill - Thrid Party License.pdf
188 kB
T.P.K - Total Party Kill - Compatible Logo.zip
178 kB
Comments
Log in with itch.io to leave a comment.
Absolutely inspired! I love to collaborating with individuals with minds as creative and refreshing as Newyear Studios. Bravo!